Avatar Chat
Magic Leap, 2017 - 2018
At Magic Leap, I led product for Avatar Chat, which launched in 2018 with the Magic Leap One Creator's Edition as the first avatar-based mixed reality experience available for consumers on any platform.
Alongside Avatar Chat, I led from concept to launch a suite of core OS products for social experiences, including a contacts service, app sharing, and personalized platform avatars.
While working at Magic Leap in 2017 as the design lead for input and interaction for the OS, I was assigned by our CEO to lead our flagship social experience, Avatar Chat.

At the time, our platform was about 16 months out from a consumer launch, with little first or third party content, and no multiuser experiences. I reorganized the Avatar Chat program to focus on building foundational OS functionality and services that could one day scale to something like a party system (similar to game consoles) for a mixed reality content ecosystem.
We shipped a suite of products through 2018—
Contacts
"Connections" - Followers + Following
Contacts Service for developers
People Picker Service
System Invitations
Avatar Chat
A spatial way for developers to connect and interact
Far-away friends embodied in you real-world environment
Toss out a 3D emoji to express yourself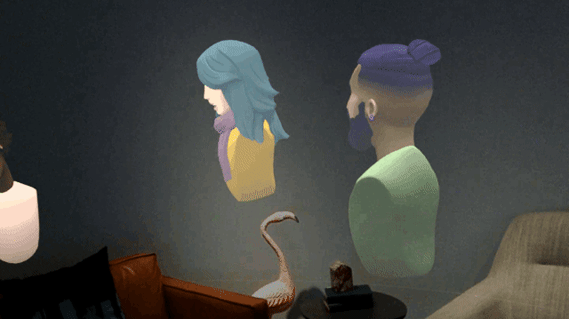 Avatar Engine and Personalization
Highly expressive via real-time sensor-to-behavior mapping
Gestures, eye-tracking, and 3D movement
Personalize with a wide range of features, colors, and accessories
Style aligned with Magic Leap consumer identity
Tools for developers to make custom avatars in any style
Deep Dive - Developing Magic Leap's Avatars
Casting
Cast Lumin apps (OS widgets) with anyone nearby wearing ML1
Drag and drop apps into an Avatar Chat call to share
Works with the OS web browser and media gallery
Key Contributions
Strategy - Evangelized a vision for copresence as key to our content strategy. Dotted-line reported to the CEO. Took broad, conceptual ideas and generated detailed requirements and roadmaps.
Design Leadership - Built and led a cross-functional team of designers, artists, researchers, and prototypers and directed the delivery of specs and assets. Contributed design concepts and creative direction. Contributed to several patents for interaction design. Closely supported iterative user testing.
Execution - Highly hands-on with engineering teams on the project and on system dependencies. Led a global engineering team in Florida, San Francisco, and Zurich in two daily standups for 8 weeks toward launch, one focusing on performance / reliability and another on UX polish. Embraced the importance of the project as a key driver for the overall maturity of the ML1 system, as Avatar Chat was developed in parallel with core platform bring-up. Filed hundreds of JIRA tickets.
Evangelism - Engaged with marketing to create assets and developer-facing narratives about the experience. Evangelized the product with developers after ML1 launch for feedback and community engagement. Spent several cumulative days of my life as an avatar.
Dream Team
I had the honor to partner with a singularly gifted, ride-or-die team on this work:
Interaction Design - Karen Stolzenberg (lead), Cole Heiner, James Powderly (director of UX)
Visual Design - Lorena Pazmino (lead), Ian Mankowski, Christina Lee, Joe Olsen
Engineering - Richard Bailey, Alex Illic, Koichi Mori, Tomislav Pejsa, Timofey Grechkin, Victor Ng