Collaboration and Copresence for Enterprise
Magic Leap, 2019 - 2020
As Magic Leap shifted to an enterprise focus in 2019, I established and led product for a program to develop products for communication, collaboration, and copresence on Magic Leap.
Based on extensive market and customer research, I refreshed the roadmap and strategy for the consumer-targeted Avatar Chat and Social Suite to meet emerging market needs for enterprise-ready, spatial collaboration capabilities.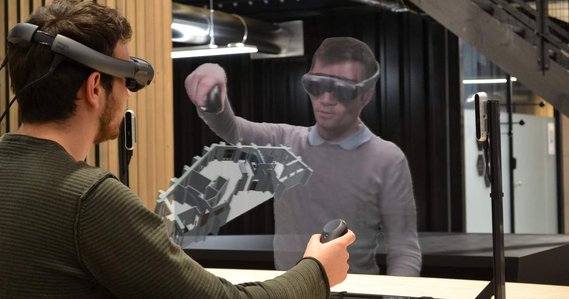 Volumetric Copresence
In 2019, Magic Leap acquired Mimesys, a European-based volumetric copresence startup. As the product lead I lead the commercialization and launch of their existing proof-of-concept on an aggressive 9 month timeline.
Deep Dive - Jump by Magic Leap
Platform Collaboration
The Landscape is the default mode of the Lumin OS, where apps can run side-by-side and persist in real world environments.
I conceptualized and roadmapped a suite of OS features to enable enterprise users to view and collaborate, local or remote, with many side-by-side Landscape apps, including Helio web pages, 2D/3D files, and web apps.

Deep Dive - C3 in the Landscape
Developer Enablement
I prioritized developer enablement as a major focus of the collaboration platform, defining detailed requirements for SDK enablers for multi-user applications. In Phase 1, we shipped a Beta Avatars SDK, enabling developers to use Magic Leap avatars in their apps; a cross-engine Apps Connectivity Platform; and an Invitations API for Unity apps.
3D Visualization Workflows
I made significant contributions to platform 3D visualization pipelines. I developed the initial product requirements for the Desktop Companion App, which enables enterprise customers to easily import files for viewing on device, and enables the development of PC software package plugins for data import / export and visualization on device. 3D files imported via the Desktop Companion App can also be viewed and annotated with realtime-collaboration natively in the OS.
Key Contributions
Strategy - Evangelized a vision for copresence as key to our enterprise strategy. Led demos and presentations to key partners and investors.
Industry Intelligence, Voice of Customer - Led extensive customer research, interviews, and on-site visits, and playtests. Maintains a high level of industry intelligence through constant market research.
Product - Combined vision, market research, and voice of customer to generate detailed requirements and roadmaps for multiple hardware/software products.
Design - Approaches problems with design thinking. Contributed design concepts and creative direction. Closely supported iterative usability testing.
Execution - Highly hands-on with engineering teams through all phases of development and execution.
Dream Team
I had the honor to partner with a singularly gifted, ride-or-die team on this work:
Key Collaborator - Remi Rousseau
Interaction Design - Karen Stolzenberg (lead), Cole Heiner, Jarrett Webb, Kyle Contigo
Visual Design - Lorena Pazmino (lead)
Engineering - Richard Bailey, Davy Loots, Alex Illic, John Monos, Koichi Mori, Tushar Aroa
Product and Program - Igor Spivak, Ben James, Malcom Spencer, Sam Miller